Phosphorus is a reactive non-metal extracted from phosphate rock. Different environmental conditions and extraction methods result in the formulation of different types of phosphorus. The most thermodynamic one is black phosphorus, which is receiving significant interest in materials engineering at present. Even though its benefits were overlooked for over a century, today, engineers utilize it in electronic devices like tunable photodetectors and memory devices.
Its use boils down to the fact that black phosphorus has high carrier mobility, i.e., electric charges can be carried through easily, and tunable band gap, i.e., the electronic properties can be precisely controlled, but there are limitations as well. The 2D material is liable to undergo rapid degradation in ambient conditions, greatly restricting the range of electrical devices it is used in. To combat this, it is necessary to have a better understanding of the degradation processes.
Previous studies showed a link between water molecules and black phosphorus degradation in normal light settings. Degradation processes in the dark, by comparison, are not so well understood.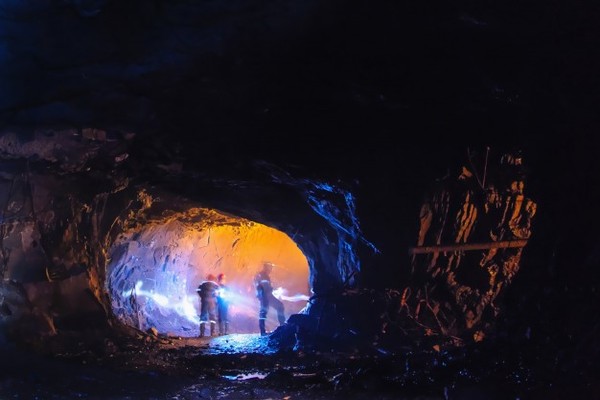 Phosphorus can be extracted from phosphate rocks that were mined and sourced for. (Photo courtesy: Freepik)
A group of researchers, led by Prof. Yeonjin Yi from Yonsei University, set out to further explore this process. Prof Yi and the team conducted a study where observations on degradation of black phosphorus in dark conditions were made. It was found that the topography and surface potential, i.e., the difference between the voltage at the surface and that in the bulk, changed by degradation of the material surface. The team measured the changing characteristics of black phosphorus flakes over 48 hours in dark conditions, to avoid the effects of light-driven degradation. Images taken via atomic force microscopy showed visible changes to the surface over 48 hours of air exposure.
The researchers measured the topography and surface potential of bulk and few-layered black phosphorus in dark conditions. Studying the layered sample could throw light on the relationship between black phosphorus layering and the degradation process in the dark. Over 48 hours, a phosphate layer formed on the surface due to oxygen-driven chemical interactions with the top layer. The few-layered sample had lower electron concentration than did the bulk.
Prof Yi commented, "this low carrier concentration of few-layered black phosphorus limits the oxidation rate", where the sample with layering was less prone to degradation. This implied connections between degradation and the carrier concentration. It appeared that layering, and notably, the carrier concentration, determine the degradation rate of black phosphorus in the dark. Based on this insight, improved designs and applications of the material can be realized for black phosphorus-based products.
This work can help improve the designs of future electronic devices using black phosphorus by shedding light on black phosphorus degradation in the dark, and enable the further development of techniques to improve black phosphorus stability.
Updated in July 2019