A new hydrogel developed by Korean researchers has improved mechanical properties and shows promise for effective wound dressing during surgery
Research published online in Advanced Science in September 2023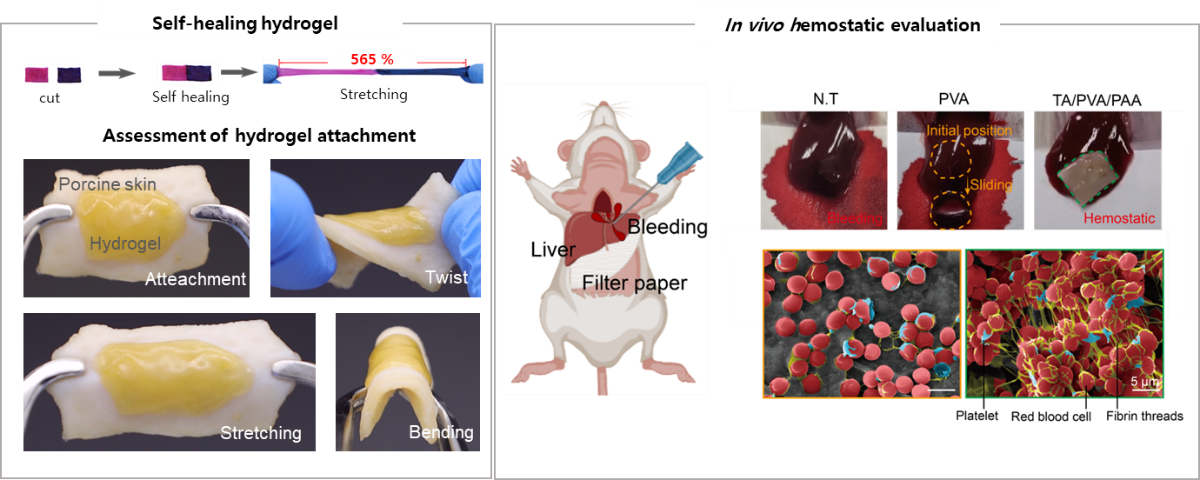 Researchers from Korea have developed a hydrogel patch that can seamlessly adhere to procine skin even through stretching, twisting, bending. It has demonstrated in vivo biocompatibility and rapid hemostasis-inducing abilities, which were revealed through optical and SEM precision in mouse model.
Photo credits: Professor Jungmok Seo from Yonsei University
The choice of dressing material used in surgery has immense potential to influence the chances of clinical success. Traditional methods of dressing which utilize clips, staples, and sutures often fail to control bleeding or prevent leakage. Additionally, they could lead to bacterial infections and fail to adhere to the curved human tissue. To overcome the limitations of traditional dressing methods, researchers have developed materials known as "bioadhesives" that can directly be applied to the skin for wound coverage and repair. Bioadhesives are available as injectable glues or patches, and since they can be applied much quicker than traditional dressings, they reduce surgical time.
Hydrogel—a synthetic polymer with tissue-like softness is being explored as a next generation bioadhesive. However, hydrogels have notable flaws that prevent their use in clinical applications. They lack long-term stability, tend to absorb water and become turgid. Moreover, they form weak bonds with the tissue, compromising their adhesiveness.
In a recent breakthrough, a team of researchers from Korea, led by Prof. Jungmok Seo and Ph.D. candidate Tae Young Kim from Yonsei University and Ph.D. candidate Jae Park from LYNK Solutec Inc., designed a hydrogel patch with improved mechanical properties over conventional hydrogels. Prof. Jungmok Seo, a lead researcher in the study, explains, "Our hemostatic hydrogel patch is mechanically robust and capable of withstanding mechanical stress in the form of twisting, stretching, and bending."
To create the new and improved hydrogel, the team added tannic acid (TA) to a hydrogel made of polyvinyl alcohol (PVA) and polyacrylic acid (PAA). This resulted in the formation of a new hydrogel with a "double network" chemical structure involving TA, PVA, and PAA. The unique composition of the hydrogel patch not only imparts toughness, but also confers self-healing and non-swellable properties. Furthermore, the addition of TA gives the hydrogel patch antimicrobial and water-shielding properties. Upon implanting the patch in mice, the researchers demonstrated that the new hydrogel patch can stick to tissue and stem the flow of blood. They also demonstrated its antimicrobial effect against two pathogenic bacteria – Escherichia coli and Staphylococcus aureus.
A notable advantage of the new hydrogel patch is that is begins showing its effects much faster than certain other hydrogels. "The patch induces hemostasis within 10 seconds of application. Given that existing hemostatic bioadhesives require more than 90 seconds with steady pressure, the patch possesses the potential to be reliably applied to clinics including emergency cases," concludes Prof Jungmok Seo.
Researchers from Korea have developed a new hydrogel bioadhesive with promising applications in surgical wound care. This hydrogel offers several advantages, including enhanced toughness, tissue integration, self-healing properties, and resistance to swelling. Moreover, it exhibits antimicrobial capabilities and protects wounds from water exposure. This innovation has the potential to improve surgical outcomes and reduce surgical time, especially during emergencies.
Find out more
Title of original article: A Mechanically Resilient and Tissue-Conformable Hydrogel with Hemostatic and Antibacterial Capabilities for Wound Care
Journal: Advanced Science
Contact corresponding author: Prof. Jungmok Seo (jungmok.seo@yonsei.ac.kr)