Achieves an information transmission rate of 1,200 bits per second with 99.2% in recognition accuracy
Potentially applicable across various fields, including autonomous vehicles, robotics, and machine vision
Published in Nature Nanotechnology, one of the world's most prestigious nanotechnology journals
Professor Jong-hyun Ahn and PhD student Beom Jin Kim in the Department of Electrical and Electronic Engineering, College of Engineering, Yonsei University have suggested a solution to efficient motion recognition, which has been considered one of the biggest challenges in computing, by mimicking the optic nerve function of insect eyes based on the unique optical properties of molybdenum disulfide (MoS2), a two-dimensional semiconductor material.
Professor Ahn's research team attempted to develop an optoelectronic sensor that emulates the neural structure of insect eyes, inspired by the ultrahigh-speed motion recognition performance made possible by the unique graded neuron structure found in the eyes of flying insects, such as flies, which surpasses the efficiency of any semiconductor image sensor developed to date.
By using the unique optical properties of MoS2, a two-dimensional semiconductor material, the research team successfully developed an optoelectronic sensor with similar characteristics to the optic nerve function of insect eyes. The MoS2-based optoelectronic sensor developed by the research team can transmit 1,200 bits of information per second and recognize the motion of objects with a time resolution of 0.01 to 1,000s and an accuracy of 99.2%. This study's results could potentially be applicable across various fields including autonomous vehicles, robotics, and machine vision in future.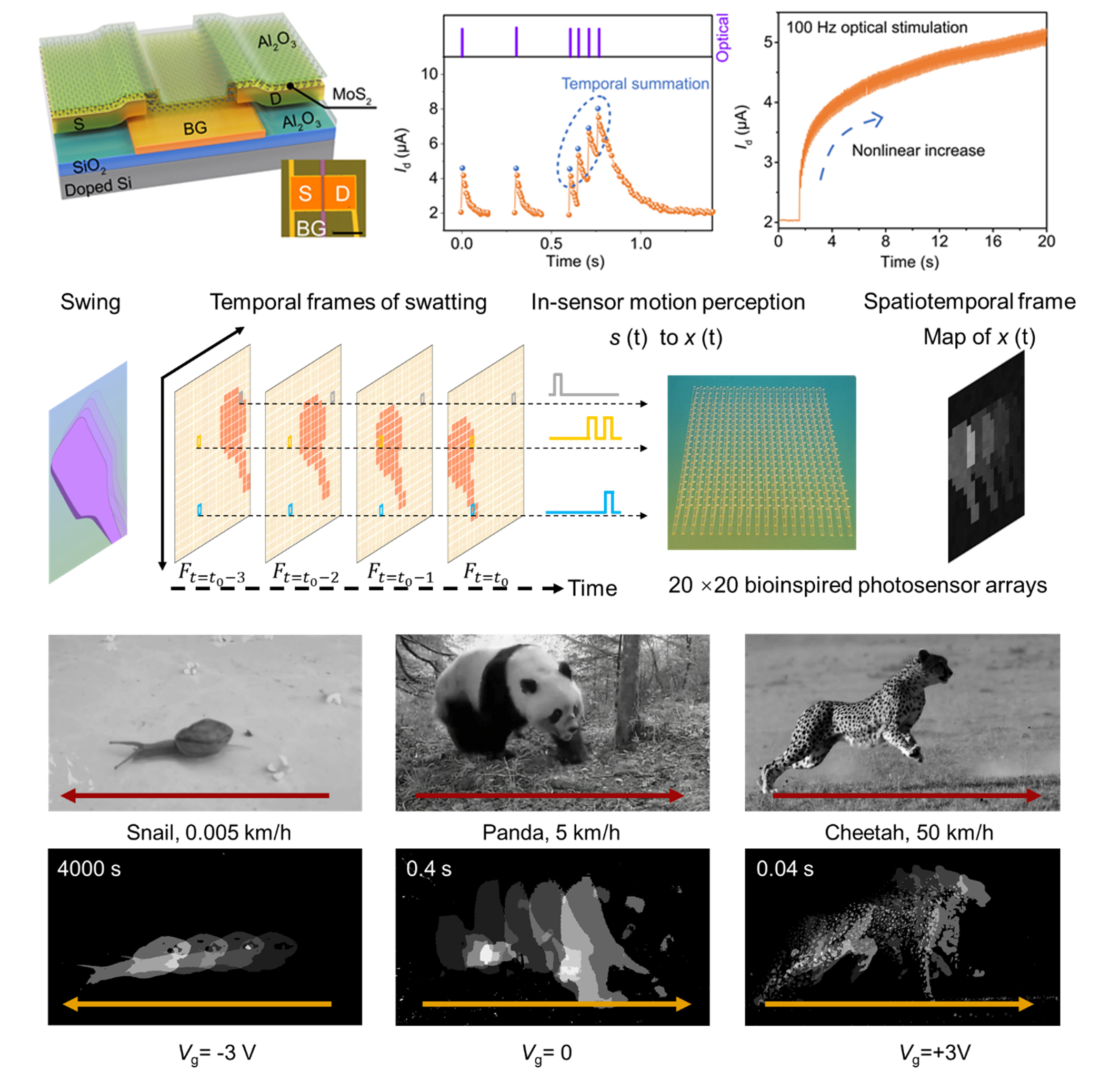 [Figure. Results of the study on a motion recognition optoelectronic sensor based on MoS2, a two-dimensional material. The implemented optical device can recognize very slow motion to very fast motion with high accuracy.]
This study was conducted in international collaboration with Professor Chai Yang's research team at the Hong Kong Polytechnic University, funded by the National Research Foundation of Korea's Leader Researcher Project, and published in the online edition of Nature Nanotechnology (IF: 40.52, top 1.4%), one of the world's top journals in nanotechnology, on April 20 2023 (local time).