Atherosclerosis is a medical condition in which arteries become progressively narrower because of the accumulation of plaque—a material composed of fat, cholesterol, calcium, and other substances. Atherosclerosis in the coronary arteries, which supply blood to the muscles of the heart, is a major cause of coronary artery disease and cardiovascular problems, such as heart attacks. Statins, a class of drugs prescribed to reduce cholesterol levels, have been shown to reduce the risk of such cardiovascular problems. However, their effects on coronary atherosclerosis are not understood well yet. To address this knowledge gap, an international team of researchers, led by Dr Sang-Eun Lee and Hyuk-Jae Chang of South Korea's Yonsei University, explored "the long-term effects of statins on plaque progression" by analyzing data from a clinical trial called the PARADIGM study.
The PARADIGM study enrolled patients with no confirmed history of coronary artery disease, through sites in Brazil, Canada, Germany, Italy, Portugal, South Korea, and the United States between 2003 and 2015. Dr. Hyuk-Jae Chang's team focused on 781 statin-taking patients and 474 statin-naïve patients. These patients were assessed using coronary computed tomography angiography, a procedure that allows scientists to obtain detailed images of coronary blood vessels without surgery, and these assessments were conducted at least twice over a period of at least 2 years. Dr. Hyuk-Jae Chang's team examined the resulting images to identify atherosclerotic lesions in coronary arteries and to determine changes in the characteristics of such lesions between the initial and final assessments.
When the investigators compared 2,496 coronary artery lesions in statin-taking patients with 1,079 coronary artery lesions in statin-naïve patients, they found that the lesions in statin-taking patients had slower rates of plaque build-up and were less likely to develop features associated with increased risks of adverse cardiovascular problems. However, the lesions in statin-taking patients exhibited more calcification, a process of plaque-hardening due to calcium accumulation, which is a known risk factor for heart disease.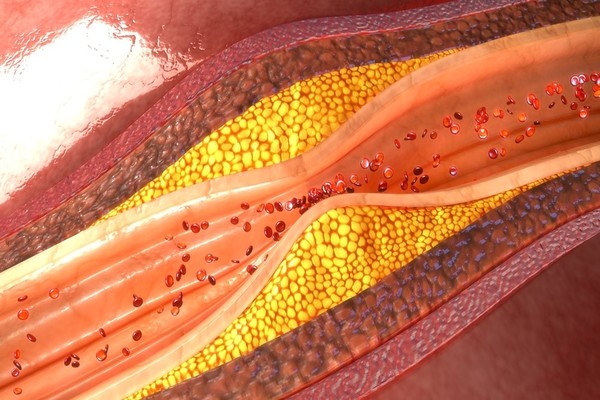 Plaque build-up in coronary arteries is a major risk factor for coronary artery disease, and data from the PARADIGM study show that statins reduce such plaque build-up.
(Photo courtesy: Shutterstock)
On the basis of these findings, Prof Chang stated that "statins slow the progression of coronary atherosclerosis" in patients at relatively low risk of major cardiovascular complications. Although statin usage was associated with greater lesion calcification, Prof Chang suggested that this could explain how statins reduce the risk of cardiovascular problems, hypothesizing that "increasing coronary calcification in statin-taking patients may represent stabilization of these atherosclerotic lesions." Prof Chang concludes, "Our study demonstrates the activity of statins in the process of treating coronary artery disease in a non-invasive manner. Our findings can also be extrapolated to discovery of novel drugs to prevent cardiovascular problems such as heart attack in a majority of population with low and intermediate risk of coronary artery disease."
The international nature of the study population proves that the results are generalizable across ethnicities and nationalities, which is fortunate given the fact that atherosclerosis presents a serious public health burden in diverse societies. Although further studies are necessary to ascertain the hypothesized relationship between plaque calcification and the clinical benefits of statins, this study provides valuable insights into how statins affect the progression of atherosclerosis and how they could potentially be used to prevent heart attacks.