The emergence and spread of antibiotic-resistant bacteria is a global public health concern and makes the rapid and appropriate treatment of patients with antibiotic-resistant infections paramount. Unfortunately, such treatment is often delayed because the type of bacterial infection and types of antibiotics to which it may be susceptible are often unknown at the outset. The conventional method for determining this information involves culturing the bacteria, which can take up to 48 hours, and then testing the culture with multiple antibiotics, which can take another 24 hours, thus wasting precious treatment time.
Recently, scientists have begun searching for solutions that would enable more rapid and sensitive identification of bacteria and detection of antibiotic resistance. In a recent article published in the journal Biosensors and Bioelectronics, Prof. Kyung-Hwa Yoo from Yonsei University in Seoul, Korea and colleagues have developed a device that promises to do just that.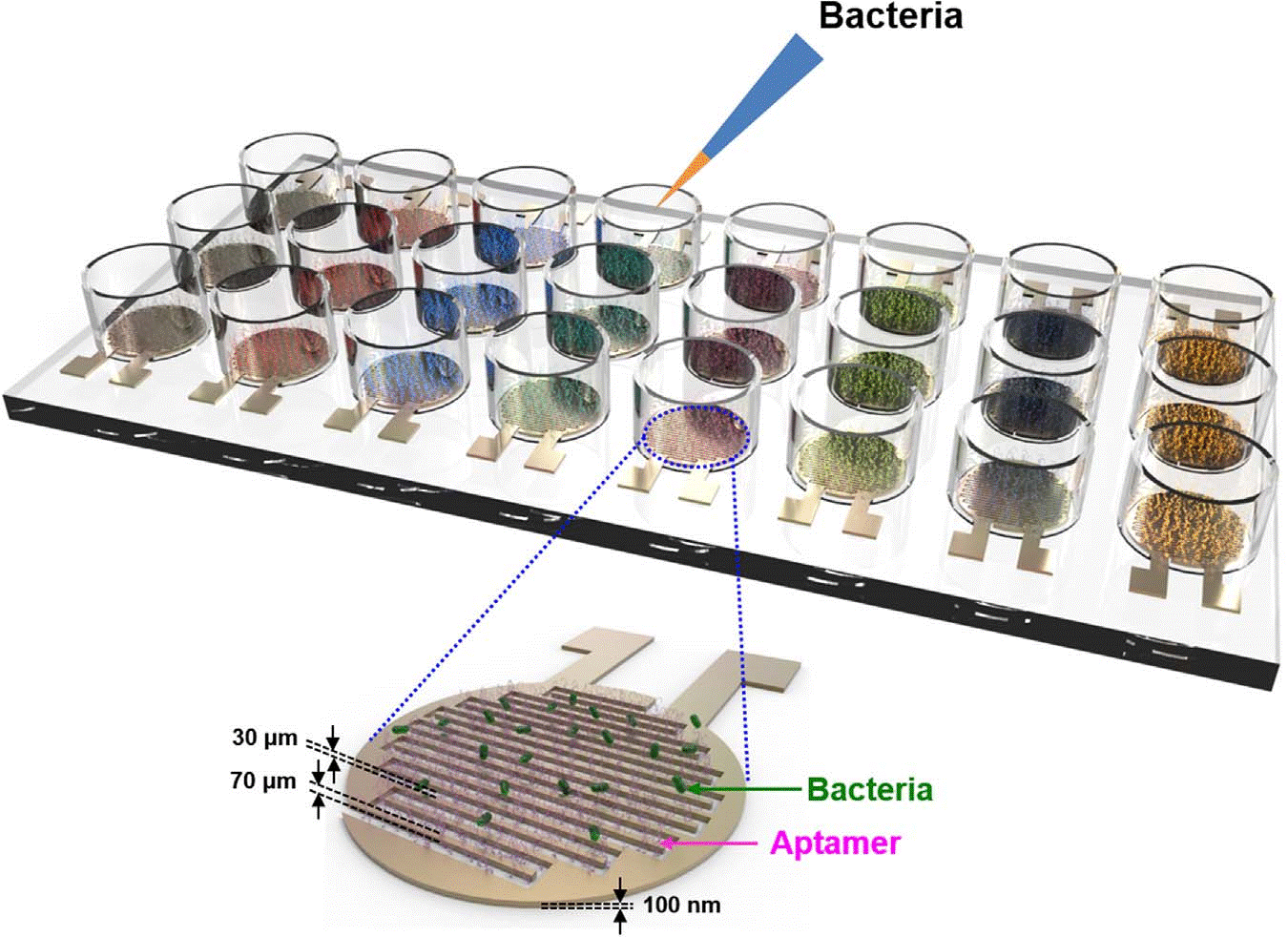 Aptamer-functionalized capacitance sensor array. Aptamers are immobilized onto the sensor surface between electrodes, and the binding of bacteria increases the capacitance of the sensor.
"Our method involves the use of electrical biosensors to detect bacteria," says Prof. Yoo. "This technique involves the use of electrodes with surfaces that have been modified with molecules called aptamers, which bind bacteria." The binding of bacteria to these molecules changes the capacitance of the sensor, which can then be monitored in real time. While the authors are not the first to use an electrical biosensor to detect bacteria, they are the first to combine these biosensors with the use of aptamers, which bind to specific target molecules with high specificity.
As a proof of concept, the authors used aptamers targeting four different bacteria and showed that even very low concentrations of bacteria could be detected and identified within 1 hour, which would considerably reduce the time needed to identify unknown bacterial samples. In addition, by adding various antibiotics at different concentrations, the antibiotic resistance or susceptibility of a bacterial sample could likewise be determined in the same short timeframe. The implications of such a device for patient treatment and the control of antibiotic-resistant infections are monumental. Notes Prof. Yoo, "Widespread use of aptamer-functionalized capacitance sensors could aid efforts to combat bacterial infections and the spread of antibiotic-resistant bacteria."