A major debate has been underway concerning the origins of the two groups of bright and faint "red clump (RC)" stars in the Milky Way bulge. Prof. Young-Wook Lee's team have previously proposed that the bright RC stars are second- and later-generation stars with increased helium content, while the faint RC stars are first-generation with normal helium levels. Their idea was based on the multiple stellar populations found in globular clusters. However, a competing theory claiming that the two groups of RC stars are actually at different distances has also been proposed.
Recently a team led by Prof. Young-Wook Lee at Yonsei University, Seoul, Korea, published a study in The Astrophysical Journal Letters demonstrating strong evidence supporting the multiple population theory. According to Prof. Lee, "our results imply that the double red clump stars have formed in young globular clusters, which has profound implications for how galactic bulges are assembled — in both our home galaxy and afar."
To gather this evidence, RC star spectra were observed using the du Pont 2.5-m telescope at Las Campanas Observatory in June 2016 and April and June 2017. Overall, 478 stars were studied: 176 bright RCs, 206 faint RCs, and 96 red giant branch stars.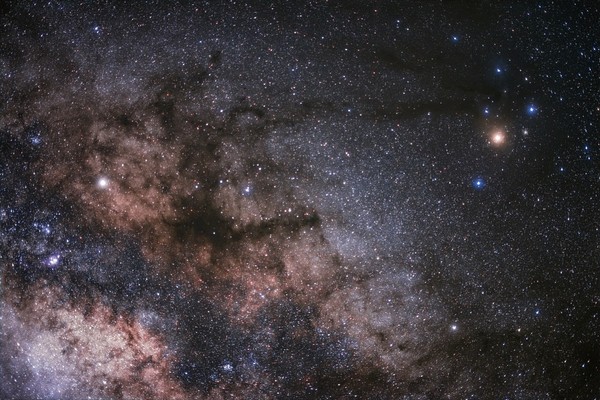 The Milky Way bulge. A recent study by Prof. Young-Wook Lee (Yonsei University) and colleagues has shed light on the composition of this bulge.
In other parts of the Milky Way, stars that originate from globular clusters have been identified by measuring the strengths of their cyanogen (CN) bands. CN is a molecule of one carbon atom and one nitrogen atom, and the CN strength visible in a star's spectrum helps reveal its origin. Prof. Lee and colleagues used the same strategy here.
If the theory of an X-shaped structure in the Milky Way bulge is correct, all the RC stars have the same chemical compositions; they only appear to have different brightness levels because of their varying distances from the Earth. In contrast, the multiple population theory holds that the stars have different chemical compositions, with the brighter stars having enhanced helium and strong CN because of nitrogen enhancement.
The results achieved by Prof. Lee and his colleagues show that the bright RCs have enhanced CN compared to the faint RCs, exactly as predicted by the multiple population theory. The findings are also opposite to those predicted by the X-shaped bulge theory. Importantly, it is only possible for many CN-strong stars to form in a globular cluster environment.
Thus, the results obtained by Prof. Lee et al. are direct evidence that the two RC groups in the Milky Way bulge are due to the multiple population phenomenon, rather than an X-shaped structure.
These findings also have profound implications for the wider research field. According to Prof. Lee, "our result calls for a major revision of the 3D structure of the Milky Way bulge, given that the current view is based on an erroneous interpretation of the double red clump phenomenon."
Updated in Dec 2018