In his book Translocal Relations and Climate Change, Yonsei Political Science and International Studies Professor Lee Tae-dong focuses on the role of cities and local authorities in addressing climate change internationally. He argues that today's globalized cities and their municipal governments are proving more adept than national governments in instituting effective policies to combat global warming. From this, Professor Lee has arrived at the concept of "translocal relations" between municipal governments, which are considered as autonomous agents.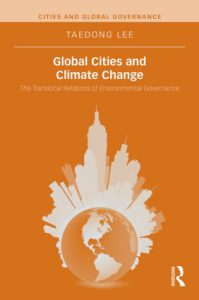 Professor Lee sees translocal relations as working both vertically and horizontally. Vertical relations move from the international down to the state, local community, and individual. This hierarchical structure, though, can result in various discrepancies at each level. On the other hand, Professor Lee identifies horizontal relations between local governments, in which cities learn from each other's climate change policies. For instance, Paris's public bike-sharing system Vélib has been emulated in South Korea through the "Nubija" program. In addition to these trans-city networks, Professor Lee highlights the relations that have formed between NGOs, foundations, and individuals, which transcend both national borders and economic differences.
Translocal relations also form in the fields of education, culture, economics, society, and politics, and they have proven more rapid in effecting meaningful policy changes. In terms of fighting climate change, it is not only major cities in developed countries that are active participants, but also smaller ones in developing nations. Some of the most important transnational and translocal climate change networks include ICLEI, C40 Cities, and Covenant of Mayors.
Speaking of the significance of his book, Professor Lee said: "Translocal Relations and Climate Change arrives at implications for both theory and policy through empirical research on why cities partake in translocal climate change networks, how they collaborate within these networks, and how network membership affects climate change reduction policies."
Updated in Feb 2017