This past April, Yonsei University celebrated the 132nd anniversary of its foundation and 60 years since Yonhui College and Severance Union Medical College merged to create Yonsei University. In fact, Yonsei inherited its name as it is today from that 1957 consolidation. Its parent institutions shared a long history that continues on in the full and thriving Yonsei University of today. Research capacity drawn from Yonsei's past has paved the way for the university to actively contribute to integrated research across disciplines, notably in biomedicine.
As of 2017, Yonsei's interdisciplinary research hub, the Institute of Convergence Science (ICONS), supports 45 interdisciplinary and joint research centers within the university. We interviewed Department of Sociology Professor Yoosik Youm, the researcher in charge of the Center for Interdisciplinary Approaches on Aging, an interdisciplinary biomedical research center and quintessential example of the institutes found at ICONS.
Q. What led to the establishment of the Center for Interdisciplinary Approaches on Aging?
Youm. Korea is currently witnessing the world's lowest birthrate and fastest aging society. By 2026, one in five citizens will be over the age of 65. This future is certain, and in order to prepare society for that future, an integrated vision and study of longevity, aging, and geriatric quality of life must serve as a solid foundation to brace for a never-before experienced elderly society. The researchers here are all devoted to that purpose.
Q. Briefly, what does the Center do?
Youm. First and foremost, we examine the elderly's experience in health and quality of life in the context of social networks as part of an overall social safety net. Studies in geriatric health have a tendency to put too much weight on either health or quality of life, or to subjectively discuss health within the boundaries of health science. Our research aims to integrate both aspects of health by developing measurable indicators, such as biomarkers for physical health and methods that address subjective wellbeing and quality of life. Rather than simply examining what effects social networks have on the health of the elderly, our research analyzes how social environments affect biomarkers, which in turn reveals an overall mechanism.
For example, researchers have recently been using fMRI of the brain to draw connections between geriatric cognitive function and social networks. These integrated indicators could give insight to successful degrees of aging and provide pathways toward effective policymaking for the future.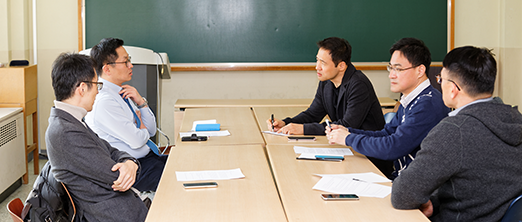 Q. Have you seen any results yet?
Youm. The Korean Social Life, Health and Aging Project (KSHAP) which I am leading has had the privilege to receive ₩2.7 billion (approximately $2.5 million) from the National Research Foundation for the past ten years. With that, we are in our seventh year studying the relationship between social networks of Korean elderly and their health. The KSHAP has also secured matching funds over the years from Korea and abroad, including from Yale University Human Nature Lab, Columbia University Interdisciplinary Center for Innovative Theory and Empirics (INCITE), and Gangnam Severance Hospital.
Professor Hyeon Chang Kim is a coresearcher heading the Cardiovascular and Metabolic Diseases Etiology Research Center (CMERC), which was awarded a five-year grant for ₩10 billion (approximately $9.2 million) from the Ministry of Health & Welfare. CMERC is developing exposure assessment tools and methodologies for research in the epidemiology of metabolic syndrome and heart diseases. By establishing a general population and high-risk cohort, CMERC aims to use multidimensional methods to parse through the social, environmental, hereditary, and biological preventative factors that can lead to disease.
Q. Are there any other plans in the near future at the Center?
Youm. Seven years of purposeful convergent research has repeatedly shown us that disease and health are as much social processes as they are biological. Two examples of our success have been published in prestigious journals. Scientific Reports published a paper describing that brain connectivity, an indicator of cognitive health, varies according to social networks. Another emblematic paper in Plos One draws a connection between osteoporosis in women and the size of their social networks.
The Center developed a curriculum open to graduate students since the 2017 spring semester called, "Interdisciplinary Approaches to Medico-Social Issues." We also have small-group mentoring for team projects, led by professors at the Center. Looking forward, we hope to continue to develop and grow at this pace well into the future.
Center for Interdisciplinary Approaches on Aging
Researchers
Research Fellow: Yoosik Youm, Department of Sociology (yoosik@yonsei.ac.kr )
Staff: Yumie Rhee, College of Medicine, Department of Internal Medicine; Yong-chan Kim, College of Communication; Justin Y. Jeon, Sport and Leisure Studies; Hyeon Chang Kim, College of Medicine Department of Preventive Medicine & Public Health; Chang Oh Kim, College of Medicine Department of Internal Medicine (Geriatrics)
Related Articles
Lee, S., Seo, D. H., Kim, K. M., Lee, E. Y., Kim, H. C., Kim, C. O., Youm,Y*., & Rhee, Y. (2017). Contingent association between the size of the social support network and osteoporosis among Korean elderly women. PloS one, 12((7), e0180017
Joo, W. T., Kwak, S., Youm, Y*., & Chey, J. (2017). Brain functional connectivity difference in the complete network of an entire village: the role of social network size and embeddedness. Scientific Reports, 7
Sohn, S. Y., Joo, W. T., Kim, W. J., Kim, S. J., Youm, Y., Kim, H. C., … & Lee, E. (2017). Social network types among older Korean adults: Associations with subjective health. Social Science & Medicine, 173, 88-95