New study proposes a simple and scalable method for fabricating micro-LED displays, which are the seen as the next generation of high-resolution displays
Research published online in Nature Nanotechnology in April 2022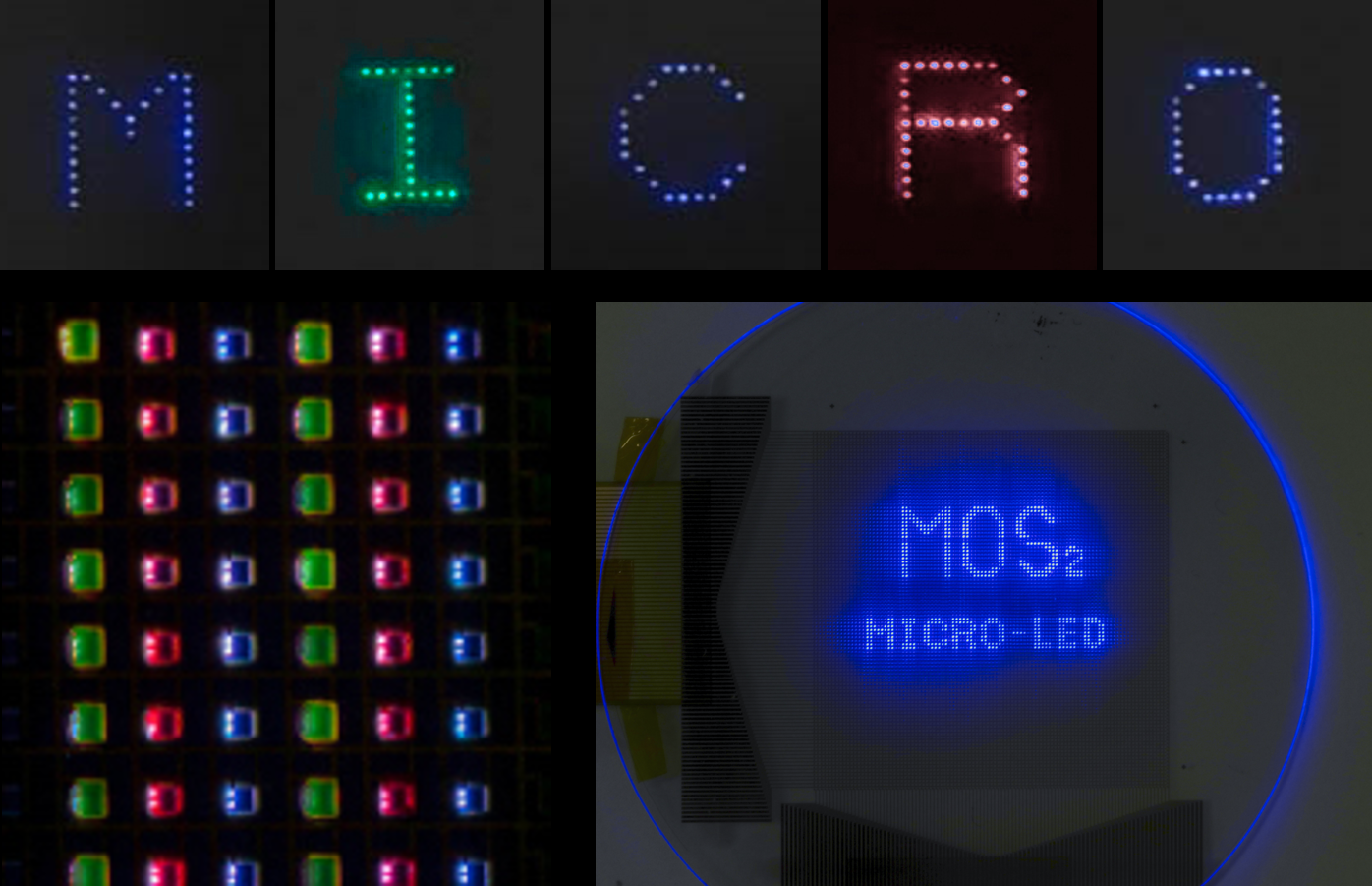 Researchers from Yonsei University have developed a method to fabricate micro-LED displays that are brighter and more responsive, yet cheaper to operate than present micro-displays.
Image credit: Jong-Hyun Ahn from Yonsei University
Micro-LED displays are considered a significant step forward in advancing display technology. These displays consist of multiple micro-LED chips mounted on a backplane (which is a thin-film transistor that switches the pixels on and off). Compared to conventional LED displays, micro-LED displays are expected to be more energy-efficient and brighter, with a faster response time. However, high-resolution, active-matrix micro-LED devices have not yet been commercialized, owing to manufacturing problems associated with installing and connecting a large number of assorted micro-LED chips on any given backplane.
In a new study published in Nature Nanotechnology, Professor Jong-Hyun Ahn and his team from Yonsei University, South Korea, have developed an alternative method to produce high-resolution micro-LED displays. Their approach is centerd on simplifying the installation of LEDs on the backplane of these displays.
Rather than aligning and bonding the micro-LED chips on the backplane to form a display, the team integrated thin-film transistor arrays directly on blue micro-LEDs by growing molybdenum disulfide (MoS2) on gallium nitride (GaN) wafers. "Current technology, which requires complicated transfer and bonding of the micro-LED panel and display backplane, is no longer necessary. In our process, the semiconductor layer is directly grown on the LED epitaxial wafer for monolithic integration," explains Prof. Ahn.
Moreover, the use of a quantum dots-based color conversion layer on blue monochrome micro-LED displays made it necessary to integrate red and green LEDs into the display, thereby improving the manufacturing process. To create a full-color display, the researchers instead printed quantum dots on the blue-LEDs to obtain red and green-LEDs-simpler process with higher output, and a more economical approach!
This new fabrication method offers a simple, economical, and scalable means of producing large-area micro-LED displays with high resolution, an important requirement for the increasingly popular virtual and augmented reality systems.
As part of their goal to commercialize micro-LED displays, the research team designed their process with compatibility in mind. To this end, the deposition process of integrating the two semiconductor materials (MoS2 and GaN) was carried out using equipment found in existing manufacturing facilities. What's more, their proposed assembly can be also used to improve various optoelectronic devices. "Such an assembly of dissimilar conductors is required not only in active matrix displays, but also in optical and biological sensors. Materials such as compound semiconductors, silicon, and 2D materials are incorporated in these devices as well, thereby expanding the scope of our research," says Prof. Ahn.
The professor and his team are now working to improve the quality of their display, particularly the colors emitted by the quantum dots and the micro-LED design.