The process by which new blood vessels form is called angiogenesis. While this process is critical for reproduction and the healing of wounds, it is carefully regulated by a precise balance between factors that promote angiogenesis and those that suppress the process. An imbalance in these factors can lead to over-activation of angiogenesis, which is linked to several human diseases, the most notable one being cancer. As reported in a research article published in ACS Chemical Biology, Prof. Ho Jeong Kwon at Yonsei University and colleagues have discovered a new small molecule that suppresses angiogenesis. This finding may lead to new treatments for diseases such as cancer and rheumatoid arthritis, promising relief to millions.
According to Prof. Kwon, the group of researchers set out to identify molecules capable of limiting angiogenesis: "We started with a library of 68 guanidine-containing compounds, as guanidine is shown to have antiviral, antifungal, antibacterial, and anticancer activity." The researchers assessed the ability of each of these molecules to affect the process of angiogenesis and ultimately identified the compound with the strongest effect, a small molecule known as E2.
In order to determine how E2 works, the scientists then used a variety of advanced technologies to identify the protein that E2 binds to, which is known as acid ceramidase 1 (abbreviated as ASAHI). Consistent with the scientists' findings, ASAHI is known to be present at high levels in cancer cells. Through additional experiments in cell cultures and chick embryos, the researchers confirmed that ASAHI promotes angiogenesis, and that E2 suppresses angiogenesis by binding to ASAHI.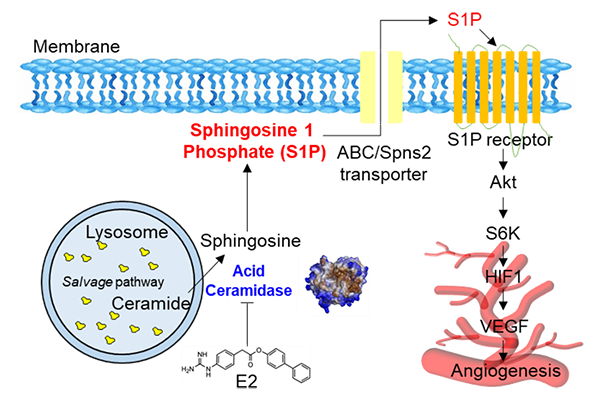 This image shows the cellular mechanism by which the newly identified molecule E2 ultimately suppresses the formation of new blood vessels ("angiogenesis"). E2 binds to the protein acid ceramidase, which sets off a chain of cellular processes that suppress angiogenesis.
These findings by Prof. Kwon and colleagues thus pinpoint a new small molecule, E2, for potential drug development, and suggest a new strategy for cancer treatment by targeting ASAHI. Unlike other treatments, E2 does not have toxic side effects. According to Prof. Kwon, "E2 is effective at inhibiting angiogenesis at nontoxic concentrations, and thus offers promise for future development as a treatment for cancer or other angiogenesis-related diseases." Also, research on other compounds capable of targeting ASAHI may offer further options for treatment.