Efficient and Affordable Separation Technology for Circulating Messenger RNA and MicroRNA Developed
Prostate Cancer Diagnostic Biomarker Panel Developed using Circulating MicroRNA from Urine
Research Results Published in Bioengineering & Translational Medicine (IF 10.684) on January 16, 2023
Professors Yong Shin of the College of Life Science and Biotechnology at Yonsei University and Choung-Soo Kim of the Department of Urology at Ewha Womans University Mokdong Hospital have jointly developed a diagnostic biomarker panel for prostate cancer by analyzing circulating RNA derived from urine that is concentrated and separated.
With the growing importance of early cancer diagnosis and prediction worldwide, research on liquid biopsy has increased. This technique analyzes nucleic acids present in non-invasively collected body fluids, such as blood and urine. In particular, circulating nucleic acids contain circulating tumor nucleic acids released from dying cancer cells into the body fluids. Circulating nucleic acids have become a focus of active research and clinical applications. This is because of their potential to be used to analyze the genetic characteristics and changes of cancer cells to estimate the presence and current state of tumors. Hindering this potential, only trace amounts of circulating nucleic acids are present in blood and urine, and their levels vary depending on the stage of cancer progression. Thus, highly concentrating the circulating nucleic acids is necessary to separate them in levels that permit diagnosis and prediction applications. Conventional methods used are spin columns or magnetic beads. These methods can only be used for limited sample types, require large or complex equipment, and have low separation efficiency, restricting their use in the clinic.
Professor Shin's research team has developed a new urine-derived circulating RNA concentration and separation technology abbreviated HAZIS-CirR, to address the limitations of the existing methods. HAZIS-CirR is a simple technology that uses the negative charge and nucleotide properties of circulating RNA to capture the RNA on the positively charged surface of nanomaterials through electrostatic force and ionic bonds. The technology uses a microfilter to concentrate and to separate the circulating RNA by filtering the nanomaterial. The process takes less than 20 min, requires no equipment, and can separate high concentrations of circulating RNA without being restricted by the size of the patient sample.
In collaboration with researchers from the Department of Urology at Ewha Womans University Mokdong Hospital headed by Professor Choung-Soo Kim, HAZIS-CirR was used to concentrate and to separate circulating RNA in urine samples collected from 89 patients with prostate cancer, those with benign prostatic hyperplasia, and normal individuals. Benign prostatic hyperplasia is distinct from prostate cancer, although the symptoms of both are similar. Therefore, distinguishing the two diseases is important for prostate cancer diagnosis and prediction. The joint research team developed a prostate cancer diagnosis biomarker panel composed of six microRNAs that can differentiate between patients with prostate cancer and normal individuals. Furthermore, the panel can quickly diagnose prostate cancer in patients using HAZIS-CirR.
"The new technology enables faster and more convenient separation and concentration of circulating RNA compared with existing methods, making liquid biopsy techniques more accessible for medical use," said Professor Shin.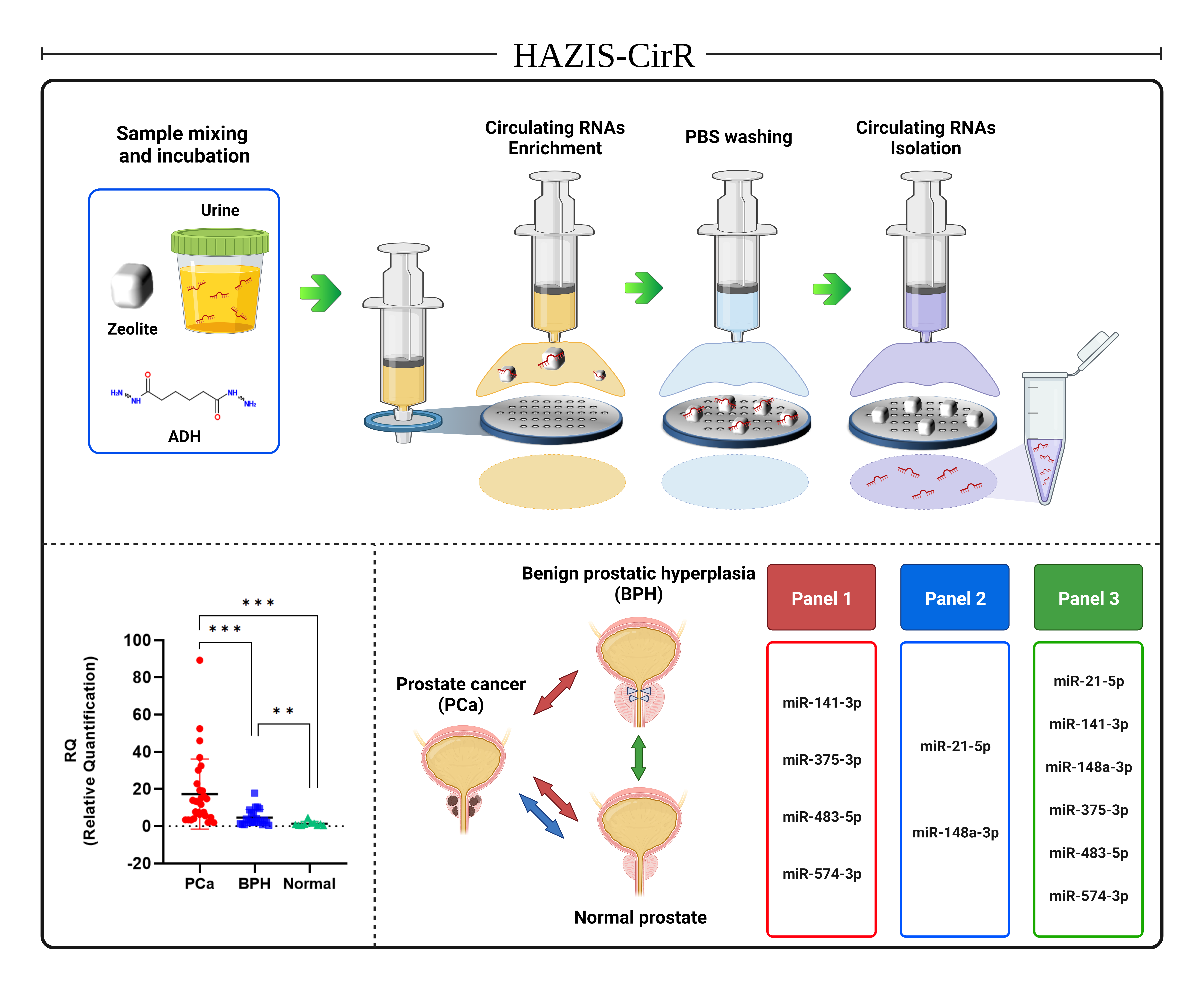 According to Professor Shin, "Analysis of high-concentration nucleic acids enhances the sensitivity of cancer diagnosis. Additionally, it is also useful for monitoring the prognosis and effectiveness of cancer treatment. Moreover, to make the technology practical for clinical use, we plan to further validate it by using urine samples from a large number of patients."
The research findings were published online on January 16, 2023 in the international academic journal Bioengineering & Translational Medicine (IF 10.684). Dr. Bonhan Koo of Yonsei University is the first author. and Professors Shin and Kim are co-corresponding authors. This research was supported by the National Research Foundation of Korea's Mid-Career Researcher Program and Regional Leading Research Center project, as well as the Infectious Disease Prevention and Treatment Technology Development Project of the Korea Health Industry Development Institute.