Researchers develop a quick and accurate method for extracting extracellular vesicles from urine
Research published online in Journal of Extracellular Vesicles in February, 2022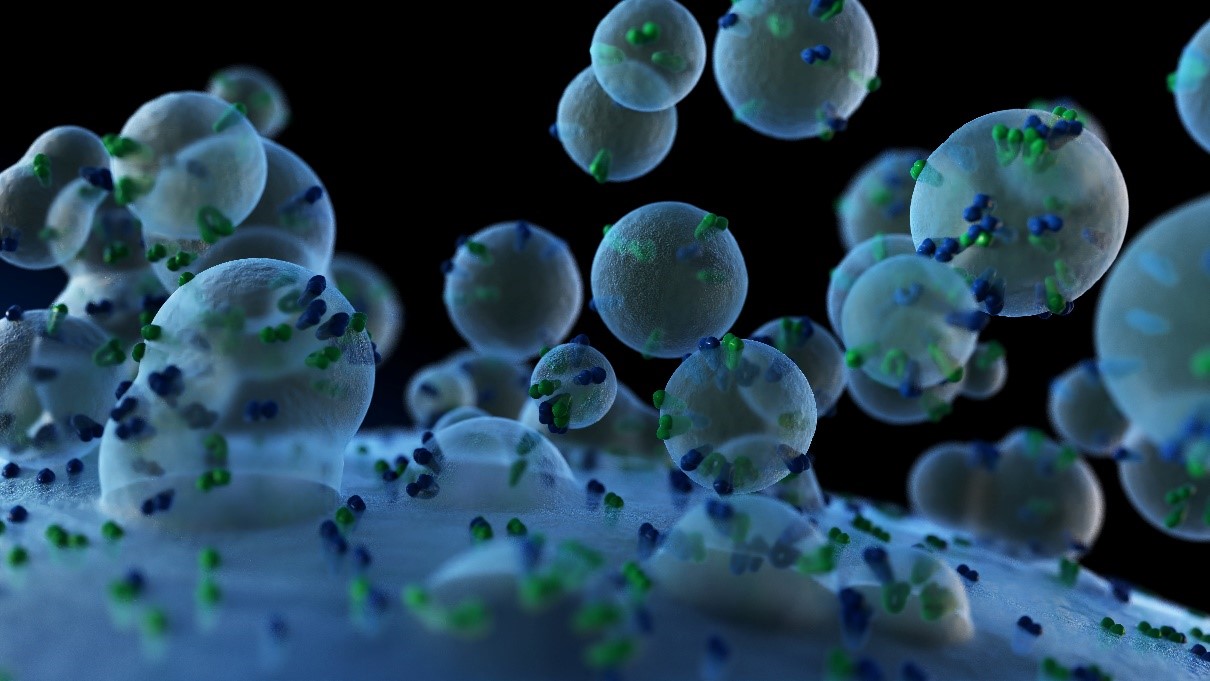 Exosomes, a type of extracellular vesicle, being released from a cell. Researchers have found that the relative expressions of exosomal microRNAs (miRNAs) from cancerous cell-derived exosomes were significantly higher than those from noncancerous ones.
Photo courtesy: Shutterstock
Early detection and prognosis of cancer are critical for ensuring non-invasive, safe, and effective treatment. Currently, early cancer detection is achieved through very invasive, time-consuming, and expensive techniques, such as tissue biopsies. However, a promising class of biomarkers for cancer diagnostics has recently emerged. These biomarkers, known as extracellular vesicles (EVs), are particles that are naturally released from cells and are surrounded with a lipid-bilayer (like cells themselves). Many EVs exist, with a wide range of sizes and functions. These can carry important information about the cell that released them—including DNA, RNA, and specific proteins that are well-known tumor markers. For example, exosomes, a type of EV, are released in a larger number by cancerous cells compared to noncancerous ones, and promise to be an important early disease detection biomarker. Bodily fluids such as blood, saliva, and urine are abundant in EVs. Harnessing EVs from these holds promise as a less invasive diagnostic technique, compared to tissue biopsies. Urine is a particularly attractive source of biomarkers, as it can be collected frequently, cheaply, and in large volumes, with minimum inconvenience to the patient or healthcare professional.
Despite their promise, the use of EVs from bodily liquids has been hampered by a lack of affordable, fast, and standardized ways to extract these vesicles from collected samples. Current methods are either unreliable and insensitive, requiring multiple samples and additional purification steps, or are too slow and require expensive devices, limiting their practicability.
Hoping to solve this problem, a team of scientists, led by Professor Yong Shin from Yonsei University, Seoul, Korea, has now devised a quick, simple, and accurate method for extracting extracellular vesicles from urine of prostate cancer patients using chimeric magnetic nanoparticles.
What are magnetic nanoparticles?
They are nanoparticles which can be coated with a broad range of molecules and other particles, making them a viable method of targeted drug delivery. "We have coated magnetic iron oxide nanoparticles with several different compounds to stabilize them in practical environments, and to selectively bind and collect extracellular vesicles to the surface. The nanoparticle system contains many different parts, including a mythical chimera, which allows it to have all the necessary functions for effective and easy EV extraction," explains Prof. Shin.
These multi-faceted nanoparticles collect the EVs through lactoferrin, a charged protein. Lactoferrin selectively binds EVs via a combination of physical forces (like electrostatic attraction and adsorption), and an intrinsic "bioaffinity," making it an ideal target. "Our method has proved to be faster, more efficient, and with a higher recovery rate and purity of EVs than established methods. This demonstrates that several diseases such as cancers and infectious diseases can be controlled easily using liquid biopsy, removing the need for invasive tissue biopsies, and improving the quality of disease surveillance for both patients and healthy persons," concludes Prof. Shin. This work presents a major step forward in an ongoing battle against cancer, providing consistent and practical early diagnostics.