The dual, switching nature of excited-state aromaticity illuminates an exciting route towards sustainable organic photoelectronics
Research published online in Chemical Society Reviews in January, 2022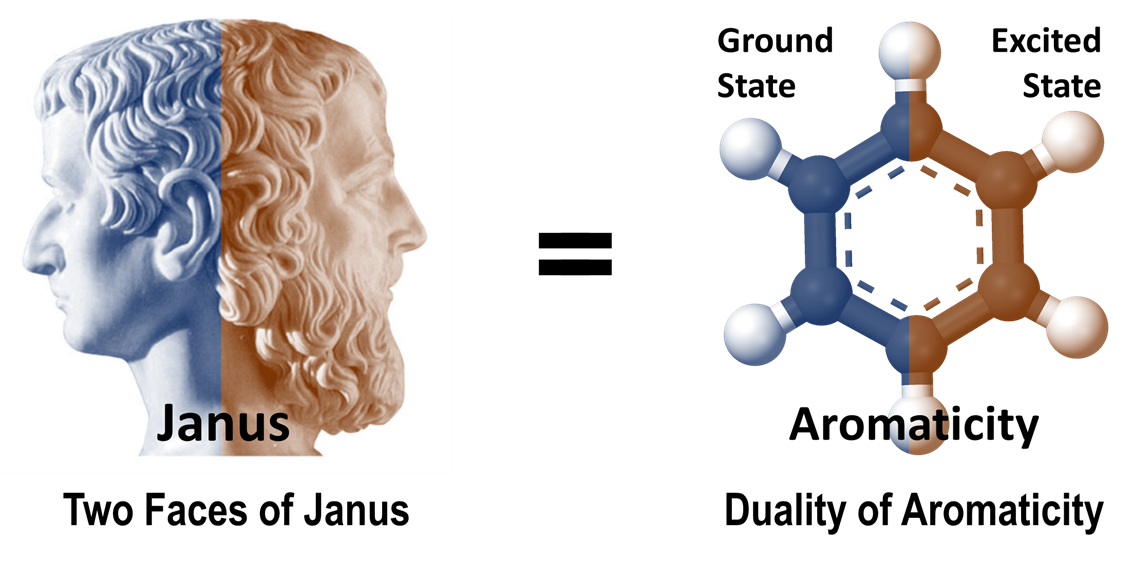 Much like the two faces of the Roman god, Janus, aromatic compounds show a unique duality between their ground and excited states, where aromaticity and antiaromaticity readily exchange. This dual nature is at the core of aromatic systems such as porphyrinoids.
Image credit: Dongho Kim from Yonsei University
Organic materials have been earmarked for sustainable, next-generation electronics since the 1960s. They are attractive for functional devices owing to their potential processability, allowing for large scale production of flexible, bendable, printed electronics. Printed electronics can be mass produced using sustainable organic materials, as an alternative to metal-dominated traditional electronics. OLED materials and organic solar cells were the initial success stories of organic materials. Today, the field is continuously evolving, as we build on our understanding of the photo-physics of organic materials.
Systems that change their properties once irradiated with light can be used as photo-switches. A unique photo-switching process is present in organic materials with aromatic properties.

What are these aromatic properties we talk of?
Well, organic compounds, which contain multiple carbon atoms, can either be aromatic, nonaromatic, or antiaromatic. Aromaticity is the property of cyclic (i.e., ring-shaped) organic compounds to significantly stabilize their structure by sharing electrons across it. Now, aromaticity depends critically on the number of participating carbon atoms and geometry, but the chemical properties and reactivities of many organic molecules and materials are governed by their aromaticity. Hence, this property is a key tool for predicting and controlling chemical reactions.
When a stable aromatic system is excited with light, it becomes antiaromatic, and vice-versa. This duality of aromaticity is a promising source of photophysical switching. A group of researchers led by Prof. Dongho Kim from Yonsei University, Seoul, Korea, aims to further the understanding of photochemical processes underlying this aromatic duality in organic materials. "Just like ground-state aromaticity controls molecular properties, understanding the role of excited-state aromaticity shines light on the mechanisms of photo-physics and chemistry. This will provide crucial insight into applications of organic materials in electronics and beyond", explains Prof. Kim.
Porphyrinoids, a class of organic materials with important biological applications, have highly aromatic and antiaromatic properties. These systems were the first to provide experimental evidence of excited-state aromaticity and have since shown significant potential as functional devices. When an antiaromatic porphyrinoid is excited, it leads to a state that is stabilized by its newly acquired aromaticity. Stable molecular states act as anchors, meaning they can be used in further processes more efficiently and reliably. This is particularly useful for next-generation solar cell applications, where such a molecule can be used as a light harvester and amplifier in flexible, printed electronics without inefficient losses.
The researchers detail the current understanding of aromatic duality in porphyrinoids and provide a clear road map towards further development of organic functional materials, as Prof. Kim himself explains, "Currently, the study of excited-state aromaticity is still in its infancy, although it is critically important for chemistry and future functional materials. Excited-state aromaticity can act as a guiding light for designing new sustainable organic photoactive materials for a wide range of applications."