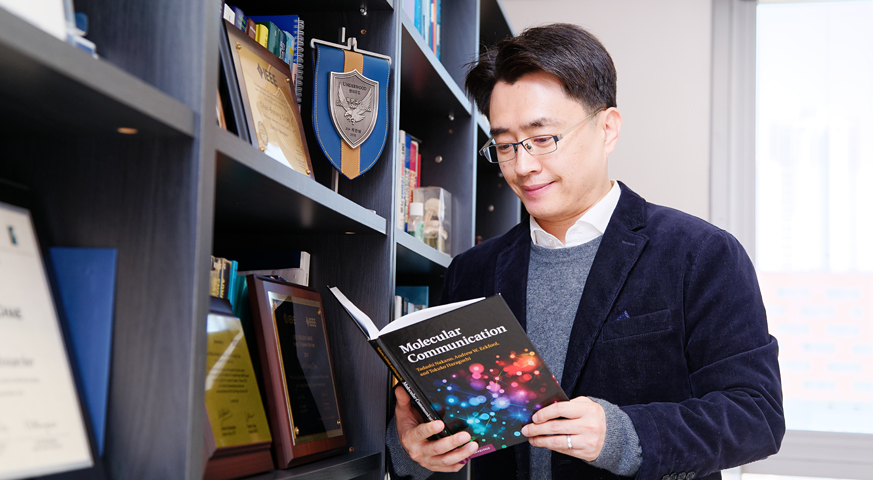 Professor Chan-Byoung Chae of the School of Integrated Technology at Yonsei University in Seoul, Korea received the Young Engineer Special Award from the National Academy of Engineering of Korea (NAEK).
Professor Chae received the award in recognition of his innovative development of key technologies for 5G communication including full duplex and millimeter wave (mmWave), and his advancement of molecular communication – an integrated technology that conveys information using molecules - as a new communication paradigm.
Professor Chae is Underwood Distinguished Professor of the School of Integrated Technology, College of Engineering at Yonsei University in Seoul, Korea. As Director of the Intelligence Networking Lab, his research interests include integrated technology and wireless systems such as next-generation communication networks, as well as applied machine learning and applied mathematics. Among various achievements, Professor Chae had also received the Award of Excellence in Leadership of 100 Leading Core Technologies for Korea 2025 from the National Academy of Engineering of Korea in December 2017. He was recently appointed Editor-in-Chief of IEEE Transactions on Molecular, Biological, and Multi-scale Communications (T-MBMC) last October.
The NAEK Award was inaugurated in 1996 to promote NAEK's mission to recognize leaders in engineering for their ground-breaking achievements and dedication to advancing excellence and innovation in engineering and technology. Currently regarded as one of Korea's most prestigious awards for engineering and technology, the annual award is conferred to three recipients – one main prize and two NAEK Young Engineer Special Awards - in recognition of their achievements in innovative, world-leading research and development.
As one of the recipients of the NAEK Young Engineer Special Award, Professor Chae received an award certificate issued by NAEK and an honorarium of 50 million won (about 44,000 USD) at the Spring NAEK General Meeting held last week.