Compared to other mammals, humans have an unusually large neocortex, which is a brain structure associated with higher-order functions such as sensory perception, cognition, and language. The widely accepted "social brain hypothesis" holds that primates evolved large neocortex volumes to support the cognitively demanding tasks associated with social interactions in large groups, and past studies have shown that "social brain" regions such as the amygdala and orbitofrontal cortex are generally bigger in individuals with larger social networks. Recently, a group of researchers, including Prof. Yoosik Youm of Yonsei University, extended this line of research by investigating associations between social brain volumes and social connectedness among older adults living in a rural village in the Republic of Korea.
In explaining the rationale for this project, the Prof. Youm argued that through "the complete mapping of the social network of an entire town, it should be possible to measure two types of individual social network size: out-degree and in-degree." Out-degree social connectivity is a measure of self-perceived connectedness and is based on how many people within the whole network an individual reports having frequent or important interactions with. In-degree social connectivity is a measure of an individual's connectedness as perceived by others and is based on how many other people list the individual as the subject of their most important social relationship.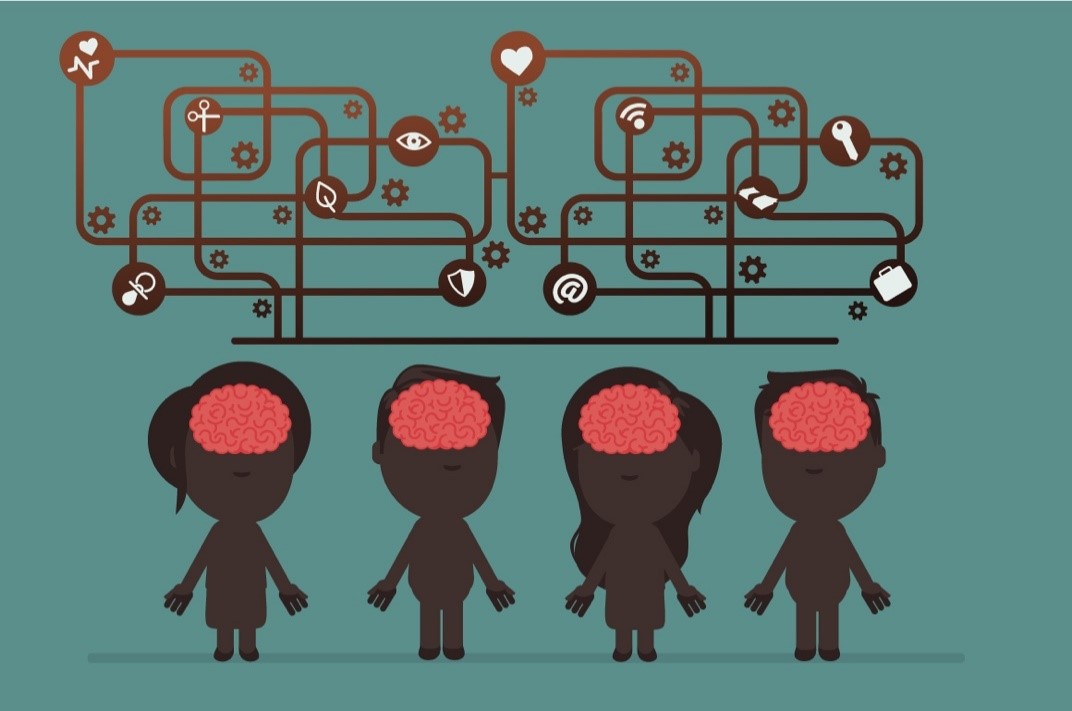 The cognitively demanding tasks associated with social interactions help to explain the large brains of humans. However, certain measures of social network size are more important than others in explaining regional brain volumes.
The researchers administered social network questionnaires to 591 villagers and used the responses to map a complete network containing 835 villagers with 1,285 social ties between them. These social ties permitted the calculation of out-degree and in-degree social connectedness estimates for individuals. The researchers also obtained magnetic resonance imaging scans from 68 of the villagers who completed questionnaires, and these scans were analyzed to determine the volumes of brain regions involved in social cognitive tasks. The researchers then examined whether social connectedness measures were associated with the volumes of social brain regions.
The analysis revealed that greater in-degree social connectedness was associated with greater volumes in the orbitofrontal cortex, dorsomedial prefrontal cortex, and lingual gyrus, all areas implicated in the inference of social information. Out-degree social connectedness, however, showed no such associations.
In explaining the null results for out-degree (i.e., self-reported) social connectedness, Prof. Youm speculated that "it may not be cognitively demanding for an individual to judge and designate one's own important social ties." As for the neuroanatomical associations observed for in-degree (i.e., peer-reported) social connectedness, Prof. Youm proposed that "to be designated as an important social tie … by others, one needs to prove that he or she remembers and understands others' various social conditions and can provide valuable social support."
The researchers therefore contend that their findings are consistent with the social brain hypothesis because regional social brain volumes were found to be associated with a form of social connectedness that is especially dependent on performing cognitively demanding tasks. As the researchers put it, persons who "successfully maintained large in-degree networks were able to exercise superior social cognitive ability using their social brain capacity."
Updated in Dec 2018