Although embedding electronic circuits and sensors into our bodies has been a recurrent topic in science fiction for decades, current research is already making this a reality, allowing for the development of very promising clinical and environmental applications. But what if we wanted electronic devices that only lasted for a limited time and then spontaneously dissolved in the body without causing any harm? Such devices could be used, for example, as sensors that would provide useful clinical information during critical periods of time (such as after surgery or cranial trauma) and then naturally disintegrate into the body.
Research into this field, called transient electronics, faces many challenges. The materials to be used need to be biocompatible (not cause any harm to the body) and biodegradable (able to be broken down by the body in a natural way). Previous works have reported on various materials that could be useful for these purposes, but the most promising ones were 2D materials (comprising a single layer of atoms) because of their electrical, optical and mechanical properties. In particular, molybdenum disulfide (MoS2) has been extensively studied as a 2D material, but not much is known about how the human body would react to it, its toxicity, and how it biodegrades.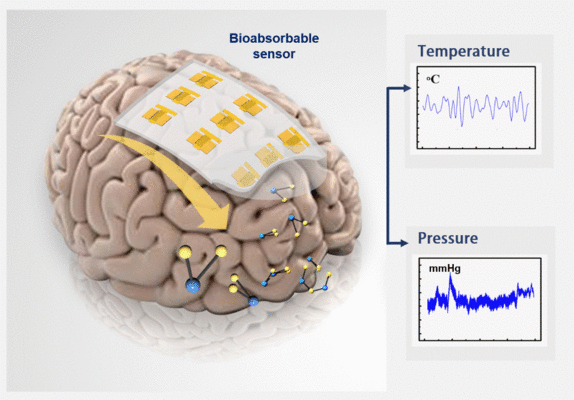 Transient circuits are designed to perform their function over a predetermined time period and then naturally dissolve; they can be embedded into the human body as sensors for clinical applications without causing any harm nor leaving any residue.
Motivated by this, a team of researchers from Yonsei University, led by Prof. Jong-Hyun Ahn, decided to thoroughly investigate MoS2 sheets and their behavior and interactions in cell cultures and live animal specimens. First, the team characterized the time it took for MoS2 sheets to dissolve in phosphate-buffered saline (PBS), which is a solution that is widely used in biological research because it mimics some properties of the fluids found in the human body. After numerous analyses, they determined that the rate at which MoS2 sheets dissolve can be tuned according to crystallographic defects on the sheets, which in turn can be tailored during the manufacturing process. This means that the time MoS2-based devices stay inside the body is adjustable, which is obviously important for any clinical application.
Afterwards, they tested whether MoS2 was toxic to cells and if it could potentially trigger immune responses. Fortunately, the answer to both questions was "No." Therefore, they went on and designed multiple sensors using MoS2, including sensors for pressure, strain, temperature and motion. Finally, to demonstrate one possible application of these devices, they implanted a sensor within the skull of a rat and showed how it could be used to accurately measure temperature. "The use of sensors implanted into the intracranial space is relevant for the monitoring of patients during a recovery period following severe traumatic brain injury," explains Prof. Ahn.
The results of this research are very meaningful for the advancement of transient electronics, as Prof. Ahn explains: "These findings pave the way for the integration of 2D materials into transient, water-soluble electronic platforms, and for their use in biologically and environmentally resorbable technologies." Although the devices themselves may be transient, the rewards of perfecting transient electronics will surely stay with us for much longer.
Updated in Dec 2018