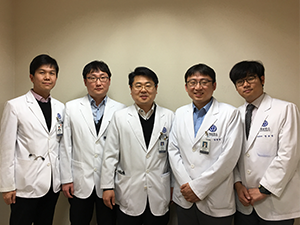 Professor Boyoung Joung (center) &
Assistant Professor Tae-Hoon Kim
(2nd from left),
Yonsei University Severance Hospital
Korean guidelines have been developed for pharmacotherapy that can help prevent the risk of ischemic cerebrovascular diseases in Korea's atrial fibrillation patients due to arrhythmia.
On June 23, 2017, Yonsei University Severance Hospital announced that a research team led by Professors Boyoung Joung and Tae-Hoon Kim succeeded in developing draft guidelines on pharmacotherapy for Korea's atrial fibrillation patients through joint research with a team led by "Gregory Lip" at the University of Birmingham in the UK.
Atrial fibrillation is an arrhythmia in which the atria of the heart, which send blood to the whole body, only beat irregularly without performing regular contractions and relaxations. This irregular beating of the heart raises the possibility of the onset of "thrombus" (blood clots) in the blood that becomes stagnant in the heart due to the symptom, which subsequently increases the incidence of ischemic cerebrovascular diseases.
In fact, atrial fibrillation is reported to account for approximately one third of the causes of stroke and increase the risk of stroke by five times. The administration of anticoagulants that suppress the formation of blood clots is a standard treatment method for reducing the risk of ischemic cerebrovascular diseases in atrial fibrillation patients who live holding a so-called time bomb of cerebral infarction in their chests.
However, since few Korean studies have dealt with the starting time of this important pharmacotherapy, Korean doctors have either referred to the evaluation tools used in Europe or the U.S. or decided the time to start the administration of anticoagulants based on their own judgments. As a result, the treatment of atrial fibrillation patients remains largely inadequate.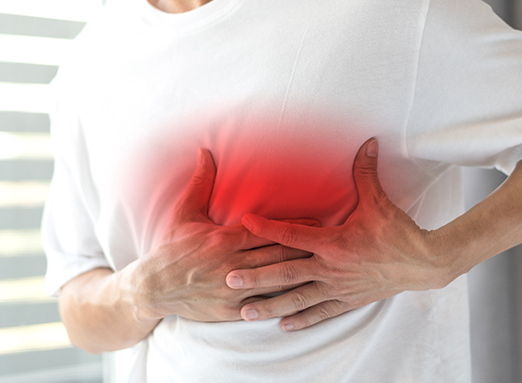 The research team produced the annual risks of stroke (the rates of disease onsets in 100 individuals per year) by tracking 5,855 patients aged 20 or above who were diagnosed with atrial fibrillation and not under treatment with anticoagulants between 2002 and 2008. The tracking was based on the data from the National Health Insurance Corporation and lasted until the end of December 2013.
The team also evaluated potential risk factors that can increase the annual incidence of stroke in the atrial fibrillation patients groups, including various comorbidities, age, and gender. These risk factors were evaluated through the process of quantifying them on a scale of 0 to 10 points using an authorized international index and applying weights to them.
As a result, they reconfirmed the fact that an older age results in a corresponding higher risk of stroke. In specific, the occurrences of stroke began to increase in the researched group of patients aged 65 or above with an annual risk of 2.11%, and the risk jumped to 3.11% in the patients aged 75 or above. The annual risk of atrial fibrillation patients who had already experienced a stroke or a "transient ischemic attack (TIA)", which is called a mini-stroke, was also high at 2.58%. Atrial fibrillation patients who were undergoing kidney dialysis also exhibited a high annual risk of stroke at 2.03%. Besides, the research team found statistically significant increase in the risk of stroke in atrial fibrillation patients with high blood pressure, diabetes, or chronic obstructive pulmonary disease (COPD).
According to the existing European and U.S. research reports, female atrial fibrillation patients have a higher risk of stroke than male patients. However, the present research revealed negligible difference between the Korean female and male patients unlike the Westerners.
It is essential to take anticoagulants to reduce such risks. The problem is that individuals are instructed to apply different times to start the administration of anticoagulants and different doses without consistent standards. The patients are also largely burdened with checking whether they maintain proper levels of anticoagulation in the blood by undergoing regular blood tests to experience the effects of anticoagulants.
This is because a lower level of anticoagulation results in a corresponding higher incidence of thrombus. On other hand, an excessive level of anticoagulation could cause a complication of intracerebral hemorrhage. "Warfarin", which is widely used as a leading anticoagulant, is characterized by decreases in its effects when combined with vitamin K. This had led atrial fibrillation patients to refrain from intake of foods containing vitamin K, such as tofu, beans, spinach, and garlic. Moreover, they have been highly concerned about its unexpected risky interactions with other additional medicines taken as well as smoking and drinking.
Professor Joung emphasized the need to take caution on an increased risk of stroke following the long-term use of warfarin. The study's results were published in a recent issue of "Stroke", a major international journal in the field of stroke.
Updated in Jan 2018
Title of original article:
CHA2DS2-VASc Score (Congestive Heart Failure, Hypertension, Age ≥75 [Doubled], Diabetes Mellitus, Prior Stroke or Transient Ischemic Attack [Doubled], Vascular Disease, Age 65-74, Female) for Stroke in Asian Patients With Atrial Fibrillation: A Korean Nationwide Sample Cohort Study.
Journal:
Stroke
DOI:
10.1161/STROKEAHA.117.016926
Contact corresponding author:
Boyoung Joung (
cby6908@yuhs.ac
)
Title of original article: CHA2DS2-VASc Score for Identifying Truly Low-Risk Atrial Fibrillation for Stroke: A Korean Nationwide Cohort Study.
Journal: Stroke
DOI: 10.1161/STROKEAHA.117.018551
Contact corresponding author: Boyoung Joung (cby6908@yuhs.ac )