Professor Hyunyong Choi of Yonsei University School of Electrical and Electronic Engineering and his team of researchers found that when an atomically-thin layer semiconductor absorbs light, a new kind of quasiparticle, an exciton, emerges and reduces the photoconversion efficiency. Like graphene, an atomic layer semiconductor is as thin as an atom, but it is known that its band gap means that the sheet easily absorbs light.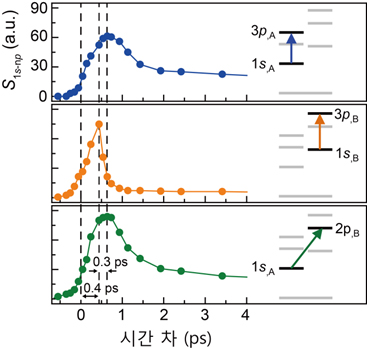 < Transient Dynamics of the Intraexcitonic Spectral Weight >
An exciton refers to a quantum state, where electrons and holes become attracted to each other, and thus they are unable to move, implying that the excitons cannot generate currents of light, or photocurrents.
By applying ultra-high-speed spectrometry to a layer of molybdenum disulfide (MoS2) using a femtosecond (10−15 second) laser, Choi's research team was able to confirm the presence of a new exciton in the sample. This result supports the conclusion that the exciton particle is the cause of the low photoconversion efficiency of the single layer semiconductor. Choi stated, "The discovery of this exciton revealed the difficulty molybdenum disulfide has as a photoelectronic device."
Reference
Cha, S., Sung, J. H., Sim, S., Park, J., Heo, H., Jo, M.-H., Choi, H., "1s-intraexcitonic dynamics in monolayer MoS2 probed by ultrafast mid-infrared spectroscopy" Nature Communications, doi: 10.1038/ncomms10768