Research team led by Professor Dongho Kim (Department of Chemistry, Yonsei University) formulated a three-dimensional structure of a chemical compound which had existed only in two-dimensional space to implement "bicycloaromaticity" and, simultaneously, to solve the problem of "the reversal of aromaticity in a triplet ground state." The concept of "bicycloaromaticity" had not been resolved in modern chemistry until now.
The word meaning fragrance, "aromaticity," is also a chemistry term. Its meaning in chemistry is additional energy stability gained by a carbon compound with a planar ring structure sharing π-electrons in p-orbitals vertical to the plane.
But, extra energy stability is gained only if a carbon compound in a resonance state is positioned in two-dimensional space.
Professor Kim's team, however, proved the aromaticity of an organic substance with a three-dimensional structure, by successfully synthesizing expanded porphyrin with a three-dimensional structure having aromatic molecular bridges. In such substance, one organic molecule can concurrently contain two independent, aromatic current loops in an external magnetic field. His research team clearly demonstrated this feature using proton nuclear magnetic resonance and X-ray diffraction spectroscopy.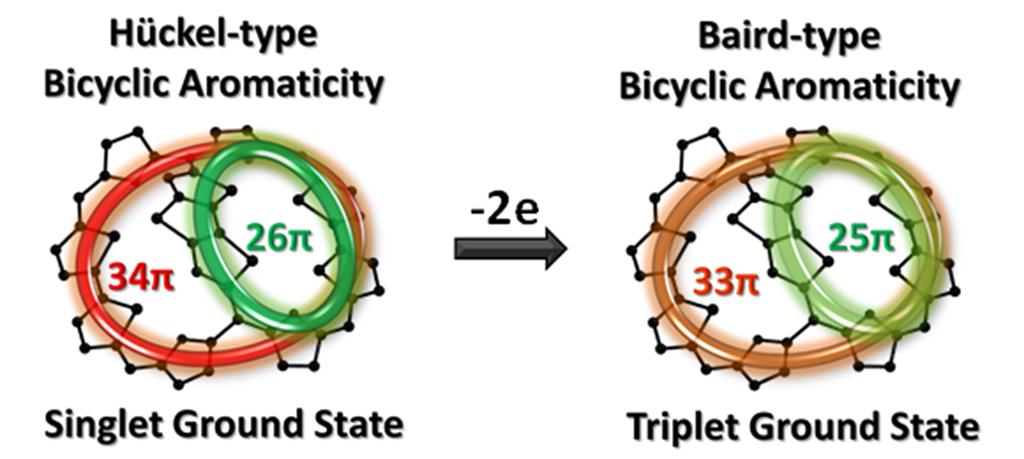 This study, conducted by Korean researchers, is the first study in the world to demonstrate the existence of a chemical compound with Baird-type aromaticity, proposed theoretically and not proved empirically for around 40 years. It is also the first study in the world to clarify "bicycloaromaticity," a concept which was proposed by Roald Hoffman in 1960s and remained unresolved until now.
The research outcome is expected to generate a leap in the area of organic synthesis. Because stable aromatic molecules, actively researched in the past, have a feature of not changing into new molecules, it is not easy to synthesize new derivatives. With the study on "the reversal of aromaticity in a triplet ground or excited state", the stability of reactants can be predicted and a new research field will be opened to identify the mechanism for light-selective synthesis and increase efficiency. The study is also highlighted, as the outcome can be applied in the creation of a molecular switch used to develop the tiny supercomputer.
The research was published in the August 1 issue of "Nature Chemistry," a world-renowned academic journal.
Updated in Dec 2017