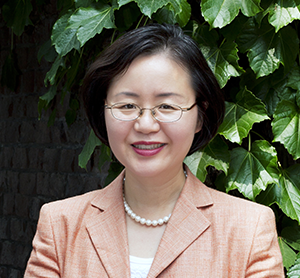 Professor Chung Meehyun, The United Graduate School of Theology, Yonsei University
Dr. Chung Meehyun, professor of the United Graduate School of Theology at Yonsei University, has been recognized as one of the world's ten most influential theologians of the Reformed faith leading up to the 500th anniversary of the Reformation (1517).
The selection was part of the World Communion of Reformed Churches (WCRC) 26th General Council held in Leipzig, Germany from June 29 to July 7. In commemoration of the 500th anniversary of the Reformation, WCRC chose 10 individuals who have played significant roles in Reformed theology. Chung was the only woman selected from Asia.
Others receiving recognition were John Calvin, who led the systemization of Presbyterian theology during the Reformation, 16th century Protestant Reformer Marie Dentière (Switzerland), Karl Barth (Switzerland), Jan Milič Lochman (Czechoslovakia), Hebe Kohlbrugge (The Netherlands), Ofelia Miriam Ortega (Cuba), Rothney S. Tshaka (South Africa), Philip Vinod Peacock (India), and Lilly Phiri (Zambia). It was an honor for Chung to be recognized alongside Lochman, who had been Chung's professor during her studies at the University of Basel in Switzerland.
Chung expressed a calling to spread more awareness of the Swiss Reformation in the theological and religious community in Korea in general, and to promising young students at Yonsei University in particular. She received her doctoral degree from the University of Basel, where she completed her dissertation, The Understanding of the Revelation and History in Theological Thought of K. Barth and J.L. Hromádka.
Chung was the first non-European to be awarded the Union of Evangelical Churches' (UEK) Karl Barth Prize (Germany) in 2006, and the Marga Bührig Foundation's Marga Bührig Award (Switzerland) in 2013. She has been remarkably active abroad where she has served as Vice President for the Ecumenical Association of Third World Theologians (EATWOT) and Head of the Mission 21 Special Desk for Women and Gender, an international Christian organization based in Switzerland.
WCRC is an international association of Reformed churches that together represent more than eighty million members worldwide. Denominations and organizations member to the WCRC observe the Christian theology developed by Reformation leaders Huldrych Zwingli, Heinrich Bullinger, and John Calvin.